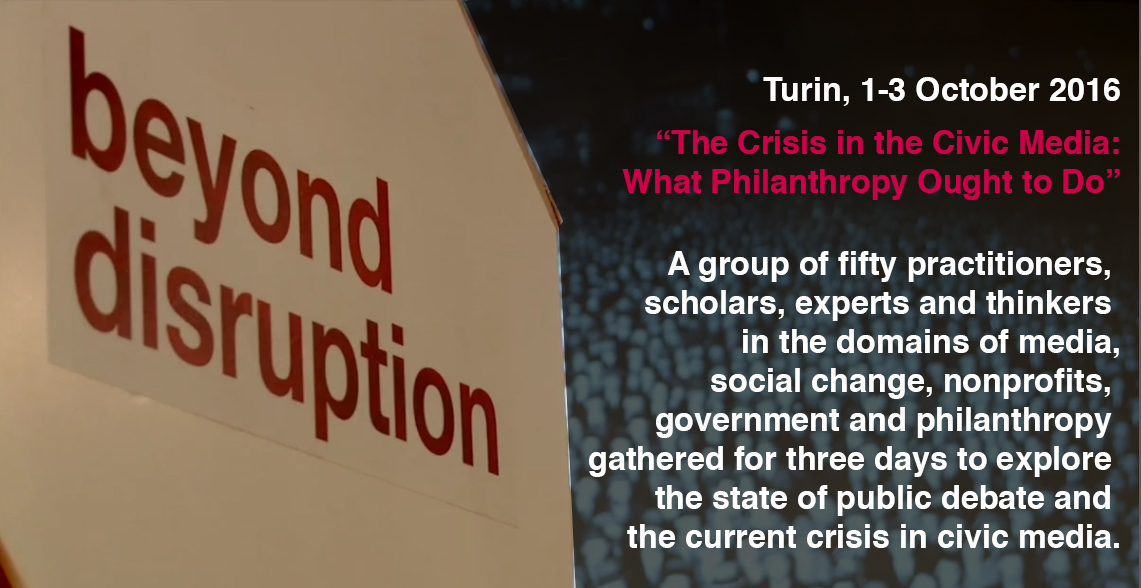 Inside an innovative environment and following a very unusual process, participants worked together to identify current dilemmas, make sense of the new reality, envision "what's possible," and co-design a new generation of experiments to move Beyond Disruptions towards the development of a well-informed society.
The group represented a wide spectrum of institutions: foundations that specifically support independent media; foundations with broad missions to improve the public debate and its influence on cohesion in civil society; disruptors in journalism, civic action and innovative funding; digital news and technology players; and a wide range of thinkers on civil society – architects, economists, historians, anthropologists, and political theorists.

The article The Crisis in the Civic Media–What Philanthropy Ought to Do, published in the Stanford Social Innovation Review, draws heavily upon conclusions and recommendations that emerged from the gathering.
In this public version of this website you will find:
– The Executive Summary: a synthesis of the conversations
– The content developed for the different ideas-projects-experiments
– Some pictures
– The list of institutions involved.
"Beyond Disruption" was designed and facilitated by Architects Of Group Genius (www.architectz.eu), a consulting practice focused on innovation, collaboration and learning. If you are interested in participating in the next generation of this gathering, please write to beyond.disruption@mdif.org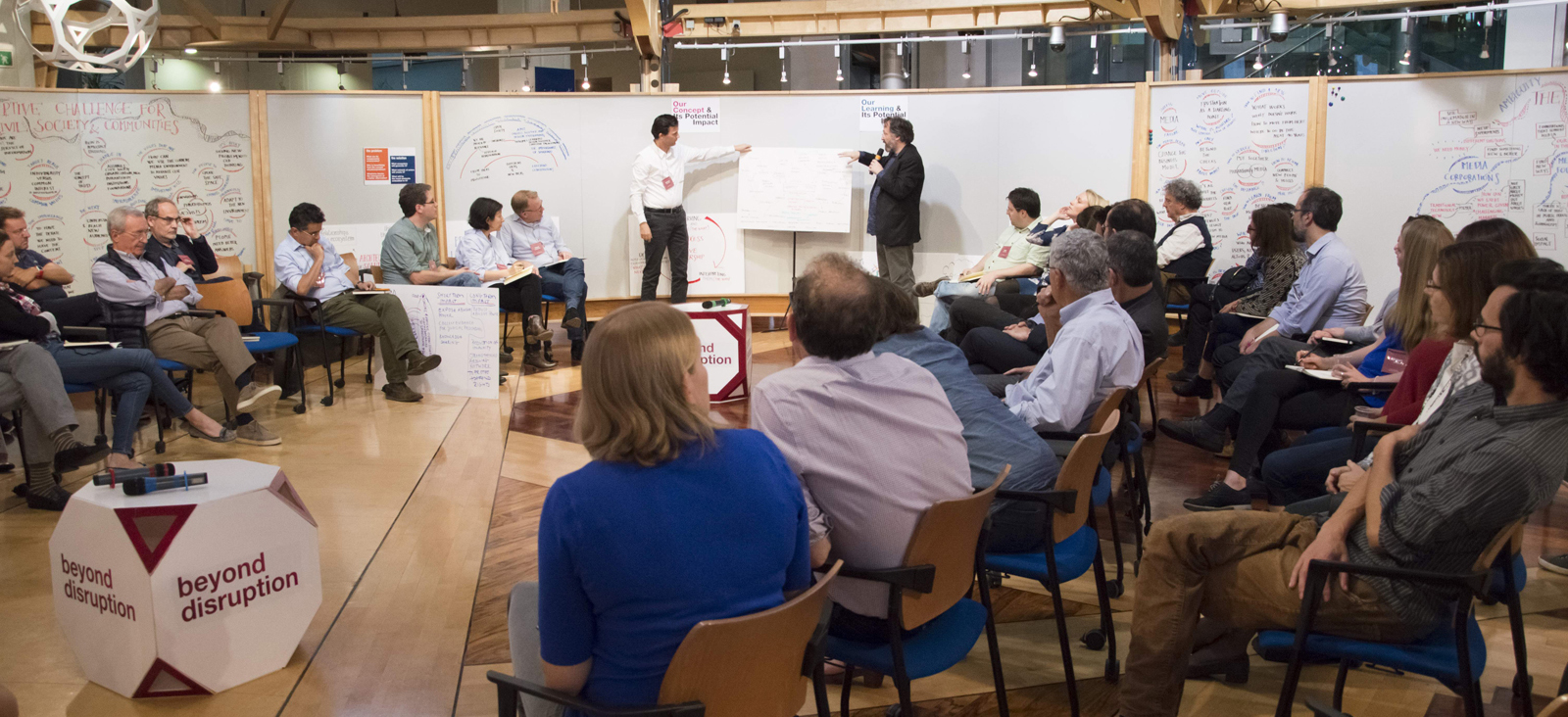 Participants
NRC Media  – The Splice Newsroom – Alto Data Analytics – Open Society Foundations – Direkt36 – P24 Platform for Independent Journalism – Columbia University – Media Development Investment Fund – Journalismfund.eu – Stanford Center on Philanthropy and Civil Society (Stanford PACS) – Centre for the Analysis of Social Media (CASM) at Demos – Alliance Publishing Trust, Alliance Magazine – ECOS – Electronic Frontier Foundation – The Joseph Rowntree Foundation – Bellingcat – Meduza – International Consortium of Investigative Journalists – DOEN Foundation – Re:Baltica – Committee to Protect Journalists – Open Society Initiative for Europe – ELDIARIO – The Charles Léopold Mayer Foundation for the Progress of Humankind – European Cultural Foundation – voxe.org – The Google DNI Innovation Fund – Talent Garden Torino – The Guardian – Storyful – Robert Bosch Stiftung – Hosoya Schaefer Architects –  Fondazione di Venezia – The Conversation – The New York Times  – Bill & Melinda Gates Foundation – Stichting Democratie en Media – Clear Thinking – Organized Crime and Corruption Reporting Project (OCCRP) – Adessium Foundation – ERSTE Stiftung – Big Lottery Fund  – Fritt Ord – World Association of Newspapers and News Publishers (WAN-IFRA) – WITNESS

with the support of Open Society Foundation